Location: 
Lake Orion MI, US, 48359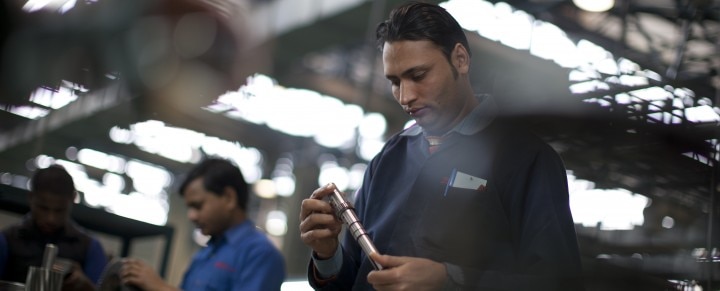 Inspector - 2nd Shift 
 
The Inspector will work in a self-directed capacity in a changing environment. You will work with a variety of customers to understand their ongoing product needs and translate those needs into workable specifications for teammates to follow.  Daily tasks, you will draw upon training and experience to make important front-end and back-end processing decisions.  As part of your primary responsibilities, this individual will also ensure that once the customers' products have been processed they are inspected for quality, re-packaged, and shipped accurately.
We offer
Aside from a dynamic global culture and leading market position, we are proud to offer our employees development opportunities, competitive salary and a robust benefit program ALL available on first day of employment!
The perks and benefits of working at Oerlikon include the following:
Comprehensive medical and prescription drug plan with low premiums, company sponsored HSA contributions and without cumbersome waiting periods to keep you going strong.  

Excellent Dental and Vision coverage.

Employee Assistance, Financial and Wellness programs to help improve all aspects of your life journey. 

401(k) retirement savings plan with significant company match and financial planning and education options to help you achieve your retirement goals 

Tuition reimbursement and internal education resources to satisfy your love of learning so you can continue to grow with us!

Generous paid time off to support your physical and mental wellbeing.

12 paid company holidays to occasionally extend your weekends or time off. 

Flexible hours or remote work environment available for certain positions

100% company paid life insurance and disability insurance

Employee Referral Bonus program because why not to bring your friends to work everyday!
Your Responsibilities
Interact with customers and co-workers in a 'customer-friendly' manner

Receive and inspect customer product for processing

Establish product process sequence

Inspect finished product

Participate in continuous improvement activities

Learn new skills and Cross-train into various department
Act as member of the monthly 'Quality Council'

Tool identification including matching with travel cards

Visual inspection of tools for proper coating

Learning de-fixturing techniques

Post quantities being shipped into computer system

Pack customer parts for shipping

Use XRF equipment to document coating thickness

Use various shipping software

Performing other duties as required to assure customer satisfaction
Your Profile
High school diploma or equivalent

Must be proficient ordering supplies via the Internet

Experience with MS Word and Internet Explorer

Knowledge of industrial cutting tools (e.g.; drills, etc.) preferred, but not required

Individual must have strong work ethic, be high-energy, and detailed-oriented

Must be able to lift 30lbs
About us
Oerlikon is a global innovation powerhouse for surface engineering, polymer processing and additive manufacturing in key industries such as aerospace, automotive, energy, tooling and textiles. We serve as a key partner in enabling our customers to reach their targets for optimizing the performance, function and sustainability of their products and manufacturing processes. 
Our solutions reduce emissions in transportation, maximize longevity and performance of tools, increase energy efficiency and advance intelligent material and sustainable polymer processing. These achievements are proven hallmarks of our global leadership. 
We at Oerlikon embrace diversity. This is reflected in more than 11,800 employees, representing over 93 nationalities and our presence in more than 38 countries and 207 locations worldwide. 
Oerlikon is an equal opportunity employer striving to promote a diverse and inclusive workforce, and is dedicated to unbiased recruiting, hiring and employment practices. Oerlikon takes affirmative action to ensure candidates are considered without regard to their race, color, national origin, ancestry, religion, creed, age, sex, pregnancy, sexual orientation, gender identity, genetic information, marital status, parental status, disability, veteran status, and any other legally protected characteristic.

Learn more about Oerlikon: 
https://www.oerlikon.com/en/brands/
Location: 
Lake Orion MI, US, 48359

Nearest Major Market: Detroit