Location: 
Dayton, US, 45404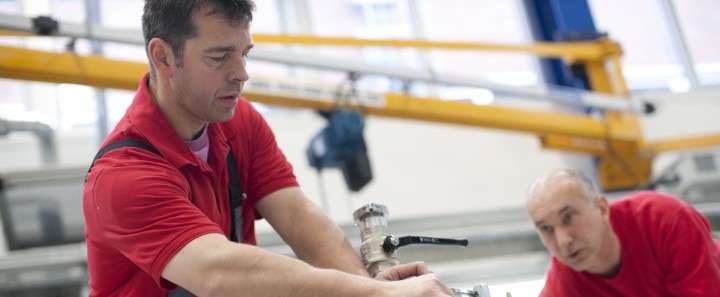 Toolmaker 
 
Under general supervision the Toolmaker knows how to build tools, dies, prototype parts, jigs, fixtures and gauges to specified designs. Maintains the tooling/die to produce a production part within customer specification. Able to operate general shop equipment such as mills, lathes, grinders, etc.
Your Responsibiities:
Reveiws detail and assembly prints as required.

Sets up and operates machine tools to machine details, grinds details to specifications, and verifies detail's conformance to specifications.

Computes dimmensions and plan machining and assembly operations.

Assembles the job per the design.

Sets up, tries out and finalizes the job per specified design and part print conformance.

Has the knowledge and skills to review and troubleshoot the tool during the production run.

Identifies the problem areas and corrects the problem area so production can continue.

Examines tools and dies to determine what needs to be sharpened, polished or repaired for the next production run.

Must satisfy quality standards.

Must conform to current health, environmental and safety standards.
Communicates ideas to improve the organization.

Regular attendance, starts work on time, works the scheduled shift and overtime as needed to support customer demands.
Your Profile:
Commits to the corporate core values, goals, mission and vision.

High School graduate or GED or equivalent experience.

Five to seven years' experience toolmaker/die maintenance.

Able to prolong standing 9+ hours or more.

The employee frequently is required to use hand to finger, handle or feel objects, tools, or controls and climb or balance. The employee is occasionally rquired to walk; reach with hands and arms; stoop, kneel, crouch, or crawl and talk or hear. Good dexterity, attention to fine details and depth perception to enable detail hand coordination.

The employee must regularly lift and/or move up to 10 pounds, be able to lift and/or move up to 70 pounds and occasionaly exert 50 to 100 pounds of force.

Near acuity or accommodations as required for reading gauges, prints and precision measuring instruments.

Ability to monitor machine sounds to identify and diagnose changes in order to take appropriate action.

Good verbal and written communication skills.

A positive attitude and willingness to work overtime when required.

Will be required to perform other duties as requested, directed or assigned.
We Offer
Benefits effective day one of hire: 
•    Medical, Dental & Vision  
•    12 Holidays
•    Generous Time Off 
•    Short and long Term Disability
•    Matching 401K
•    Tuition Reimbursement & More
Can you identify with this position and are you looking for a new challenge? Then we are eager to meet you! Please apply online.
About us
Oerlikon is a leading global technology Group, with a clear strategy of becoming a global powerhouse in Surface Solutions, advanced materials and materials processing. The Group is committed to investing in value-bringing technologies that provide customers with lighter, more durable materials that are able to increase performance, improve efficiency and reduce the use of scarce resources. A Swiss company with over 100 years of tradition, Oerlikon has a global footprint of more than 10 600 employees at 179 locations in 37 countries and generated sales of CHF 2.3 billion in 2020.
We have a great benefits package including medical insurance, dental and vision, tuition reimbursement, health and wellness benefits, retirement security contribution and 401(K). If you want to operate in a business environment that gives you the freedom to imagine what is possible - please send us your application!
Statement of Equal Opportunity/Affirmative Action: Oerlikon AM is an equal opportunity/affirmative action employer.  It is the policy of Oerlikon AM to provide for and promote equal employment opportunity in employment compensation and other terms and conditions of employment without discrimination based on age, race, creed, color, national origin, gender, sexual orientation, disability, marital status, Vietnam Era Veteran status, genetic predisposition, or carrier status. Oerlikon AM is committed to assuring equal employment opportunity and equal access to services, programs and activities for individuals with disabilities. It is the policy of our company to provide reasonable accommodation to a qualified individual with a disability to enable such individual to perform the essential functions of the position for which he/she is applying or in which he/she is employed. Further, it is our policy to provide reasonable accommodation for religious observers.
The policy applies to all employment practices and actions. It includes, but is not limited to, recruitment, job application process, examination and testing, hiring, training, disciplinary actions, rate of pay or other compensation, advancement, classification, transfer, reassignment and promotions. If you require an accommodation during the application process or for issues concerning Affirmative Action/Equal Employment Opportunity please contact Human Resources.
Sustainability is a living principle for Oerlikon. 
https://www.oerlikon.com/sustainabilityreport-2020/en/
 
*EQAM
Location: 
Dayton, US, 45404

Nearest Major Market: Dayton