Manufacturing Technician 1
Location: 
Billings, US, 5388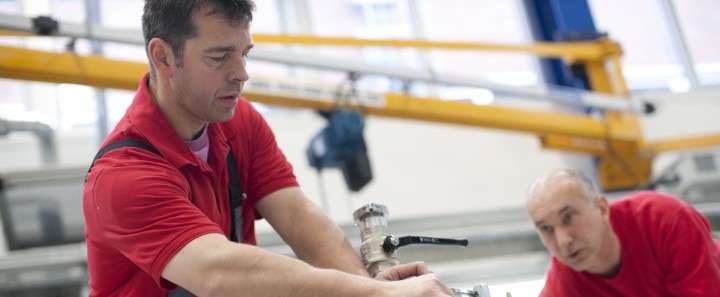 Manufacturing Technician 1 
 
We are looking for a Manufacturing Technician for our Billings facility. This role will Perform manual labor along a production line, will operate and troubleshoot production line equipment and may perform minor repairs as necessary.   
We offer
Aside from a dynamic global culture and leading market position, we are proud to offer our employees development opportunities, competitive salary and a robust benefit program ALL available on first day of employment!
The benefits of working at Oerlikon include the following:
Comprehensive medical and prescription drug plan with low premiums, company sponsored HSA contributions and without cumbersome waiting periods to keep you going strong.  

Excellent Dental and Vision coverage.

Employee Assistance, Financial and Wellness programs to help improve all aspects of your life journey. 

401(k) retirement savings plan with significant company match and financial planning and education options to help you achieve your retirement goals 

Tuition reimbursement and internal education resources to satisfy your love of learning so you can continue to grow with us!

Generous paid time off to support your physical and mental wellbeing.

12 paid company holidays to occasionally extend your weekends or time off. 

100% company paid life insurance and disability insurance

Employee Referral Bonus program because why not to bring your friends to work everyday!
Your Responsibilities
Operate production line equipment

Troubleshoot production line equipment

Perform equipment change-overs

Responsible for quality control.

Make adjustments as necessary to produce product within specifications. Reject any product outside of specifications.

Operate forklift to maintain raw material supply for the production line

Complete and maintain daily production logs

Perform preventive maintenance (PMs) on production line machinery

Add chemicals and materials to work pieces, using hand tools

Clean and maintain work area

Turn off and lock out equipment when not in use

Comply and abide with all ISO 9001 quality policies, procedures, instructions and forms Comply with all local, state, federal, and international laws as it applies to the business function
Your Profile
Skilled labor experience in manufacturing, preferably in the chemical or metal working industry. Laboratory testing and quality control experience is a plus.

Additional experience/knowledge in ISO 9001 development, implementation and compliance is preferred.

Ability to work well under pressure and maintain professionalism during stressful situations

Self-motivated, confident, highly dependable, and have solid follow- up skills

Ability to interact with other departments to gain access to necessary information with the ability to multitask

Read, write, and speak fluent English

Able to lift 50 lbs daily in the warehouse environment

 Meet all pre-employment and ongoing requirements of the OMUS Employee Handbook, including substance abuse and medical/physical testing, codes of conduct, and sensitivity to proprietary company information Any other qualifications as described by top management
Are you curious? Then release your passion to succeed and APPLY to discover how you can help us build a better world and realize how you can make a personal difference by joining our global team! Our commitment is your success!
About us
Oerlikon is a global innovation powerhouse for surface engineering, polymer processing and additive manufacturing in key industries such as aerospace, automotive, energy, tooling and textiles. We serve as a key partner in enabling our customers to reach their targets for optimizing the performance, function and sustainability of their products and manufacturing processes. 
Our solutions reduce emissions in transportation, maximize longevity and performance of tools, increase energy efficiency and advance intelligent material and sustainable polymer processing. These achievements are proven hallmarks of our global leadership. 
We at Oerlikon embrace diversity. This is reflected in more than 11,800 employees, representing over 93 nationalities and our presence in more than 38 countries and 207 locations worldwide. 
Oerlikon is an equal opportunity employer striving to promote a diverse and inclusive workforce, and is dedicated to unbiased recruiting, hiring and employment practices. Oerlikon takes affirmative action to ensure candidates are considered without regard to their race, color, national origin, ancestry, religion, creed, age, sex, pregnancy, sexual orientation, gender identity, genetic information, marital status, parental status, disability, veteran status, and any other legally protected characteristic.

Learn more about Oerlikon: 
https://www.oerlikon.com/en/brands/
*EQOM 
Location: 
Billings, US, 5388